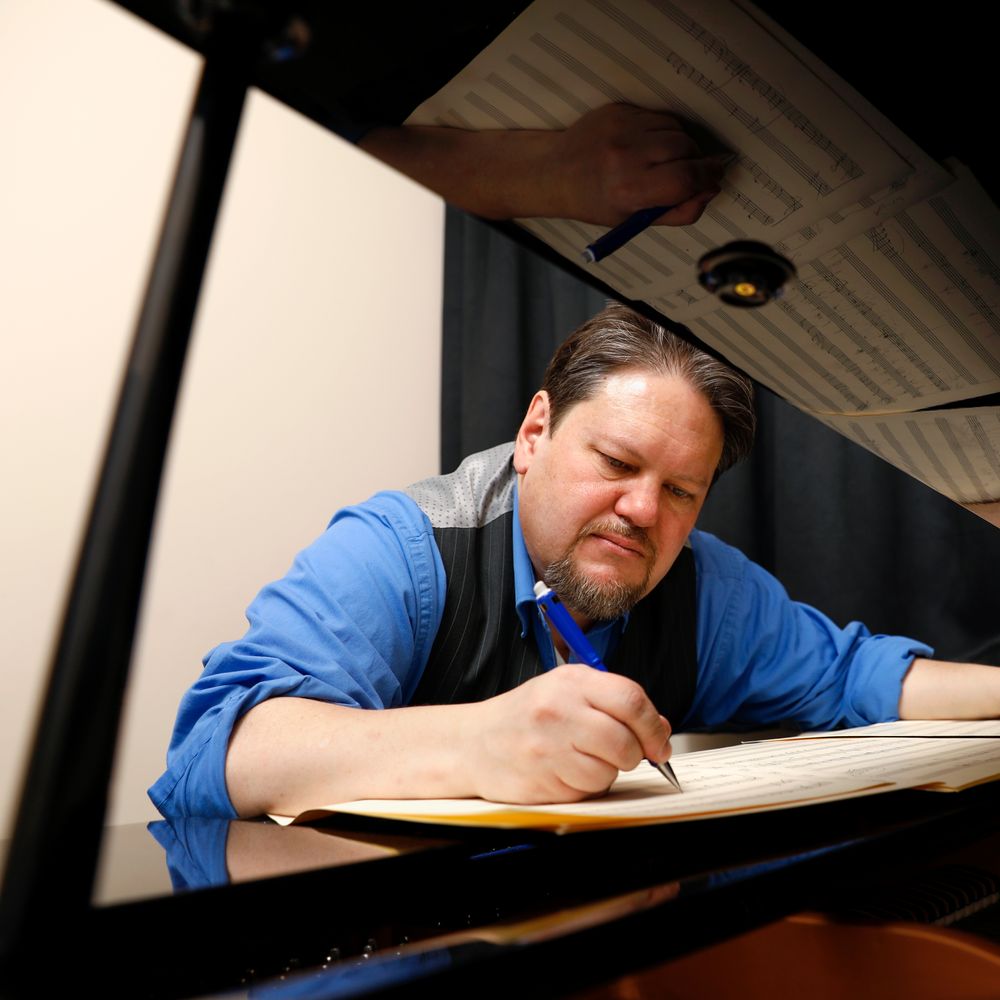 Bio
Classical composition highlights include "Interior Landscapes," a contemporary concert hall piece performed by the Playground Ensemble for the Colorado Composers Concert 12 in Denver, CO, "Small World, Writ Large," a short, contemporary ballet work, and "Hallelujah Nachtmusik in Blue, No. 5," a humorous piece for the Denver Public Schools combined honor orchestra.  Orchestrations include works for the Colorado Symphony Orchestra (featuring the bands Tracksuit Wedding and La Fiebre del Sabor) the Boulder Symphony (featuring Katie Glassman and Snapshot), and the WPA Theatre's Off-Broadway production of Fairy Tales.
Theatre works include music, lyrics, and scores for Wonderland Follies, performed at Lincoln Center in New York, and adaptations of two children's books by author Lisa Appleton, Okapi & Beezoo,  and The Sword In The Bone.
Mr. Ebell graduated Summa Cum Laude with a degree in music composition from Metropolitan State University of Denver.  He studied composition under Dr. Leanna Kirchoff, Dr. Fred Hess, and Prof. Cherise Leiter, jazz composition with Adam Bartczak, and orchestration with Grammy winner RJ Miller.  Composition highlights include Black Widow (a short, contemporary ballet developed in collaboration with students from the dance department), "Eu Son Alianor" (a work using materials from Hildegarde von Bingen, Bernart de Ventadorn, and text by Eleanor of Aquitaine), and two jazz pieces, "Main Course" and "All The Things It Ain't" performed by the MSU Big Band, and featuring Ron Miles.
Prior to his formal education, Mr. Ebell was a music copyist in New York City, and worked primarily on Broadway productions, but also on concerts, films, and recordings.  In that capacity, he worked for legendary songwriters, including Stephen Sondheim, Kander & Ebb, Jerry Herman, and Marvin Hamlisch, as well as many great orchestrators, including Jonathan Tunick, William David Brohn, and Don Sebesky.